Printable Logic Puzzles
The printable logic puzzles on this page are a great way to help keep your thinking skills razor sharp. While the focus is logic puzzles for kids, the printable puzzles here range from easy puzzles to hard puzzles, making them great logic puzzles for adults as well.
Logic puzzles are a great way for kids to work on critical problem solving skills that help not just with puzzle solving, but with standardized testing as well. Logic puzzles appear regularly on standardized tests, and when kids practice with various types of logic puzzles they are better prepared when unfamiliar puzzles show up.
But more importantly, logic puzzles are fun! These free printables can be used for early finishers or other kids who just need an extra challenge.
Magic Square
---
Magic square puzzles are an early form of missing number puzzles with many interesting mathematical properties... The 3x3 versions are a great introduction to logic puzzles, but more advanced 4x4 and 5x5 puzzles will keep even advanced puzzlers challenged.
Magic Square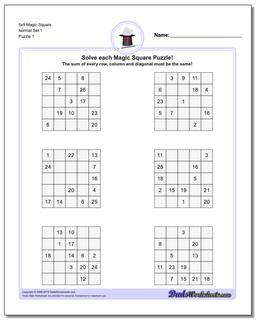 Printable Sudoku
---
Soduku is a classic logic puzzle that is great for sharpening your thinking skills. If you haven't caught the craze yet, Dad's soduku puzzles will get you hooked. There are simple sudoku puzzles for kids as well as hard sudoku for adults!
Printable Sudoku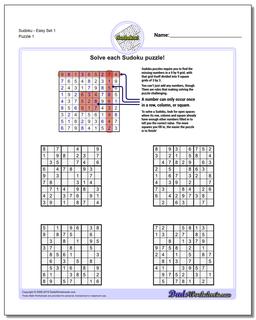 Number Grid Puzzles
---
These clever number puzzles require kids to fill in missing operators or numbers to create a consistent set of number equations in both dimensions of the puzzles. They are simple problems for adults, but perfect for grade school age kids who are learning their math facts!
Number Grid Puzzles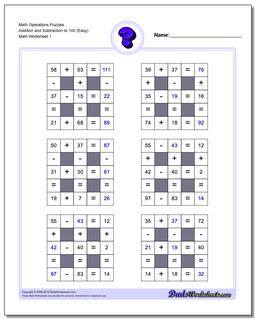 Number Snake Maze Puzzles
---
Math number snake puzzles, where kids solve simple arithmetic problems to follow the winding path to the final answer. Number Snake Addition
Number Snake Maze Puzzles